Luxury That Goes Beyond the Vehicle. Mercedes-Benzmbrace® Is a Collection of Services and Features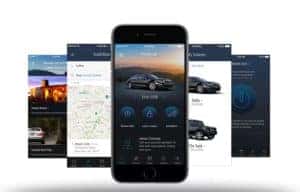 Mercedes me brings your vehicle information, 24/7 support, and the Mercedes-Benz lifestyle to one place. With mbrace® Connect free for five years on vehicles 2016 and newer, you can access services like Remote Start, Lock/Unlock, and more.
Mercedes-Benzmbrace® is a collection of services and features – available in four distinct packages – that makes your ownership experience smarter, safer, more convenient and more fun than ever before. Enjoy the base package,mbrace® Connect, standard for five years with any new Mercedes-Benz.
Remote Access 
It begins withmbrace® Connect, the standardmbrace® package that powers many of the features of Mercedes me. This is what allows you to start your car, lock your doors, or send an address to your navigation, all from the Mercedes me app. Plus, you can easily connect with Roadside Assistance or send diagnostic data to your dealer. Services include:
• Remote access from your phone or computer with Mercedes me
• Vehicle locating and tracking
• In-vehicle apps like Yelp and local search
• Remote diagnostics for easier servicing
Safety & Security
Thembrace® Secure package uses cutting edge technology to keep you safe inside your car, and informed when you're not. So if you're ever in an accident, someone is on the way, and if your vehicle is ever stolen, you're the first to know. Services include:
• Automatic collision and alarm notifications
• SOS/Emergency call capabilities
• Safe Ride if you're ever unable to drive
• Crisis Assist in the event of a disaster
Travel & Assistance
At Mercedes-Benz, we know that time is the greatest luxury of all. With anmbrace® Concierge package, you have your own personal assistant who can help you with dinner reservations, event tickets, travel arrangements, and more. And you can access them anytime using the i-button or the Mercedes me app. Services include:
• Mercedes-Benz Concierge
• Location-based traffic
• Location-based weather
• Turn-by-turn route assistance
Entertainment
Thembrace® Entertain package makes driving your Mercedes-Benz even more enjoyable by providing a never-ending soundtrack to your ride. Choose from millions of stations, playlists, and podcasts from around the world, all searchable by location, genre, and name. Services include:
• In-vehicle WiFi hotspot
• TuneIn Radio
• iHeart Radio
Mercedes me
Mercedes me is the ultimate ownership experience from Mercedes-Benz. Powered bymbrace®, Mercedes me connect allows our drivers to utilize many of their freembrace® Connect features, including Remote Start, Lock/Unlock, Send2Benz, and Vehicle Monitoring – all from the Mercedes me app. Plus, you can log in to view your manuals, maintenance info, how-to videos, financial terms, and more. Discover more on Mercedes me, and sign up to get started.