Mercedes-Benz G 550 4×4² Wins 2018 MotorWeek Drivers' Choice Award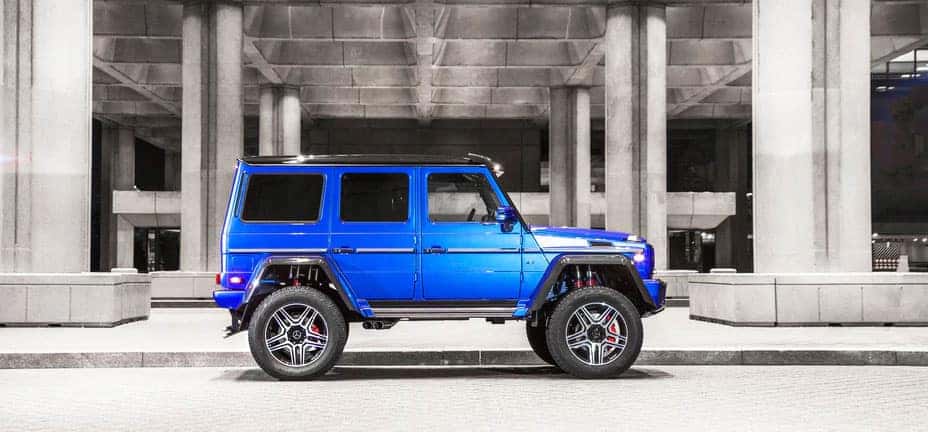 Since it was originally conceived in 1979 as a vehicle to be used primarily in tough off-road terrain, the G-Class has remained an icon in and of itself. The Mercedes-Benz G 550 4×4 is the most capable G-Class ever, boasting innovative portal axles, three locking differentials, a ground clearance of more than 17″ and a 4.0L V8 biturbo engine. MotorWeek has named the Mercedes-Benz G 550 4×4 the 'Best Dream Machine' among their 2018 Drivers' Choice Awards.
One of the auto industry's most coveted honors, the MotorWeek Drivers' Choice Awards were announced at the largest consumer-driven auto show in North America, the 2018 Chicago Auto Show. In selecting the annual Drivers' Choice Awards, MotorWeek's editorial staff evaluates more than 150 cars, trucks and sports utility vehicles every year. Winners are chosen based on driving performance, technology, practicality, fuel efficiency and value for the dollar.
"What makes the Mercedes-Benz G 550 4×4² a MotorWeek Best Dream Machine is that it is not only outrageous to see, but far more importantly it's a way for Mercedes-Benz engineers to showcase what the brand is truly capable of. Driving it, owners can enjoy their labor of love, on or off road, in one of the most amazing vehicles we've ever driven," says MotorWeek creator and host, John Davis.
First offered for the U.S. market in 2017, the G 550 4×4 offers unprecedented amounts of off-road capability, even in comparison with the G 550, and boasts a 4.0-liter V8 biturbo engine that produces 416 hp and 450 lb-ft. Unlike a conventional axle, the portal axles found on the 4×4 allow for axle input and the wheel center to be two drastically different heights. By utilizing a series of gears similar to those found in a transmission, power is transferred from the G-Class' rigid axles downward to the wheel hub. These portal axles have afforded the 4×4 the ability to off-road where even heavily-modified off-road vehicles wouldn't dare thanks to massive ground clearance, fording depth, approach, departure and breakover angles.
An episode of MotorWeek featuring the Mercedes-Benz G 550 4×4 is currently scheduled to air on public television stations beginning February 10th – check your local listings to tune in.