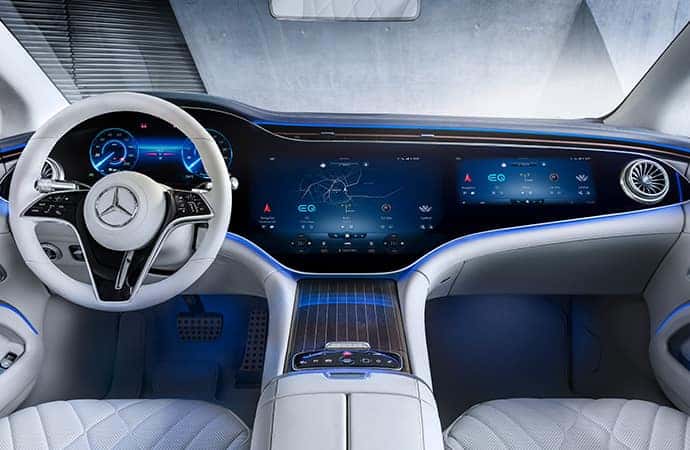 Electrified Luxury
Enter a world of elegance and sustainability with the first fully electric luxury sedan from Mercedes-EQ. More than a new era of motoring, the EQS is here to make every day a fresh start. Designed to exceed all expectations, the completely new EQS marks a major milestone in integrating progressive mobility with executive-class luxury.
The EQS is one of the world's most aerodynamic production vehicles. Upon approach, the ultra-sleek exterior with its LED light-band stretching across the front grille, gives you a taste of the captivating beauty that lies within. The automatic comfort doors open and close automatically and the hatchback offers surprising cargo room.
Schedule Test Drive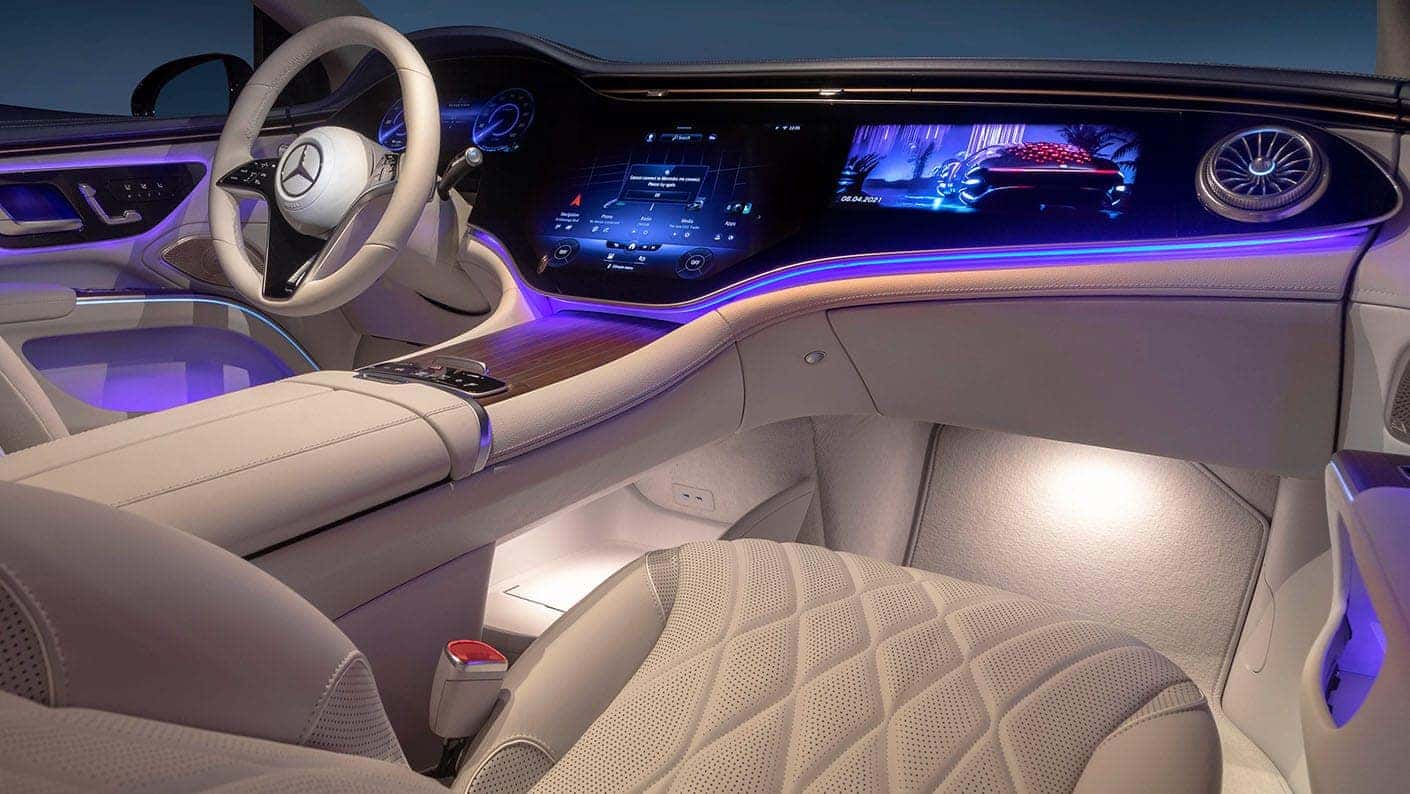 More Intelligent. More Thoughtful.
The beautiful design extends seamlessly inside the palatial interior, revealing the available Mercedes-Benz User Experience (MBUX) Hyperscreen. Exclusive to the EQS, this 56-inch curved glass instrument panel stretches from door to door to seamlessly merge three screens. A zero-layer interface eliminates the need to scroll submenus or provide voice commands, as the most essential applications such as charging, entertainment, phone, navigation, connectivity, massage, and more are always at your command. It listens and knows who is speaking. It learns your face and fingerprints to adapt to your habits and attend to your comfort.
Schedule Test Drive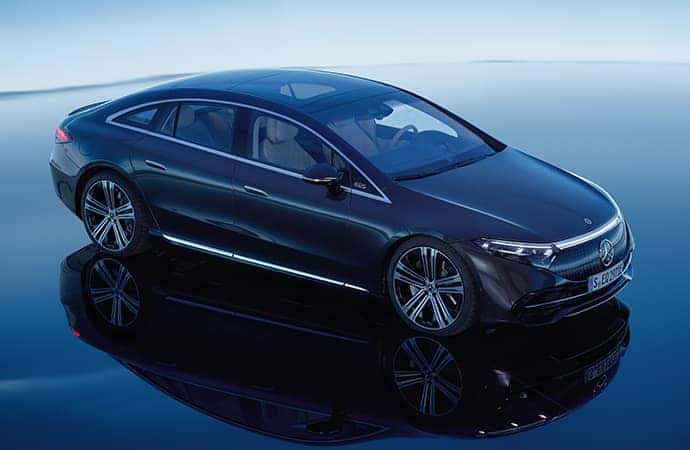 Smooth, Swift, and Sure.
The EQS is available in three different trim levels and two different powertrains offering a quiet cabin and silky-smooth ride characteristics. The EQS 450+ features a single electric motor at the rear axle that generates 329 horsepower and 406 pound-feet of torque for a zero to 60 mph time of 5.5 seconds.[1] The EQS 580 4MATIC® features dual electric motors, one on each axle, for all-wheel drive, 516 horsepower and 611 pound-feet of torque that will silently get you to 60 mph in just 4.1 seconds . The EPA rates the EQS at 350 miles of range and DC fast charging takes just 35 minutes.[2] Under the agreement, first owners and lessees of the EQS will receive complimentary 30-minute charging per session for the first two years from Mercedes me Charge account activation. Drivers will be able to manage their charging plan through the proprietary Mercedes me Charge platform and driver app.
Schedule Test Drive
[1] Driving range may vary based on terrain, temperature, driving style and other factors. Charging times are estimated and may vary by location and equipment. Charging stations must be compatible with Combined Charging System (CCS). See your dealer for more information.
[2] Complimentary 30-minute charging sessions are included for the first two years after account activation, exclusively on the Electrify America DC charging network. Charges may apply if the vehicle occupies the charging station for more than 30 minutes, or more than 10 minutes after reaching a full charge, whichever comes first. Charging on other networks may incur fees. Electrify America is a trademark of Electrify America LLC, which is a third party not within the control of Mercedes-Benz USA, LLC. Availability of, compatibility with, and access to the network depends on Electrify America and your location. For further information and limitations, and to learn more about where Electrify America network chargers are located, visit https://www.electrifyamerica.com/locate-charger/ or contact an authorized Mercedes-Benz dealer. Benefits are not transferable to other users or subsequent owners.