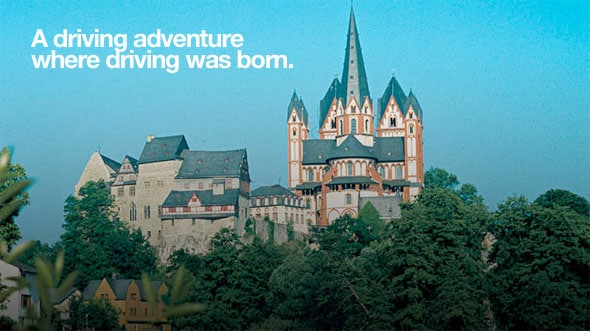 Begin your breathtaking experience by learning about the European Delivery Program.
| | |
| --- | --- |
| You can select your ideal Mercedes-Benz along with your European Delivery trip package.  | |
| Your European adventure begins at the Sindelfingen Delivery Center, where you'll be introduced to your new Mercedes-Benz. | |
| Drop off your Mercedes-Benz at one of 12 European cities, where it is customs-cleared then delivered to your dealer for pick up. | |

What's Included
7% discount on total vehicle MSRP on eligible models
One night hotel accommodation in one of 14 luxurious hotels
MBUSA personal travel concierge service for hotel and airline reservations
Two taxi vouchers for use within Stuttgart
Breakfast or lunch at the Sindelfingen Delivery Center restaurant
Sindelfingen Factory Tour
Two tickets to Mercedes-Benz Museum
Full tank of fuel
Fifteen (15) days of European road insurance
Vehicle destination and delivery charge waived
Conveyance from 10 European drop-off points to port of shipment
Marine Insurance
Return shipment to U.S. port
Customs duty and clearance
European and U.S. Wharf and handling fees
Mercedes-Benz Vehicle Preparation Center processing
Transportation to the selected U.S. Dealer
Confirmation
You will receive a confirmation package which will include:
A thank-you letter from Mercedes-Benz
Confirmation of order for European Delivery and Invoice
Certificate for breakfast or lunch at the European Delivery Center
Certificate for taxi transfer
Insurance package pamphlet
European drop-off locations
List of public holidays in Europe
Letter from Mercedes-Benz explaining taxi transfer, delivery hours, breakfast and lunch, subsequent installations, time limitations on international registration, changes of insurance coverage, extension of registration and insurance, German Value Added Tax, and return shipment.
You must present your Confirmation of order for European Delivery and Invoice and your passport when taking delivery of your vehicle. If you´re taking delivery on behalf of someone else (individual, company, or lease order), you must present notarized Power of Attorney approved by Mercedes-Benz USA, LLC.
Trip Packages
Mercedes-Benz offers five exciting European Delivery Packages: our Standard Package for free spirits, our Black Forest-Alps Rally Package or the Alpen Route Package for true driving enthusiasts, our Spa Package for health and wellness-seekers, and the Stuttgart Walking Tour for those looking simply to enjoy Stuttgart. Take a look, plan your itinerary and then get ready to enjoy Europe in your new Mercedes-Benz! (Please note that airfares to and from Europe are extra, but some major airlines that serve Europe periodically offer our customers reduced fares.)